Kiddie Junction Educational Institute has programs which provide assessments , portfolios and report cards to all families. All class rooms work on literacy, Jolly Phonics, arts and crafts, math , science, and family values. Kindergarten class is a full day and meets the requirements and testing of the local school district.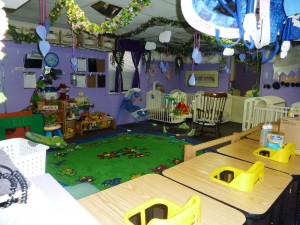 Infant & Toddler Programs
At Kiddie Junction, our staff and teachers take pride in the loving, caring and nurturing environment that we provide for our infants and toddlers. We believe that learning begins here. Our Kidex program provides children with one-on-one developmentally appropriate activities which are done with each child on a daily basis.
In our Infant & Toddler rooms we use the Sign With Your Baby program. This is a great program that allows us to work on communicating with young children before they are able to verbalize their wants and needs to their caregiver. We also provide Similac and Enfamil products, jar foods, cereal, whole milk and table foods when your child is ready.
Read more about our Infants Program.
Read more about our Toddler Program.
PreSchool Program
Our PreSchool program incorporates our Creative Curriculum Continuum. Each lesson plan follows a theme which includes activities in the areas of art, music, stories, finger-plays, science and fine & large motor skill activities.
It is our goal that by the time the children leave our PreSchool program, they will have met the objectives in all four areas of development including physical, cognitive, social-emotional and creative development.
Read more about our PreSchool Program.
School-Age Programs
Kiddie Junction offers Before & After School Enrichment Program that presents an exciting opportunity for elementary school students and their working parents. We offer a secure, well supervised environment where children receive help with their homework and can enjoy assorted recreational activities. In addition, we offer Summer Camp and Holiday Break programs for children ages 6-12.
Read more about our School Age Programs.
Special Events!!!!
Many fun-filled events are held throughout the year: delicious Mostacciolli Dinners, Parent's Night Out, Mom's Night Out, Grandparent's Breakfast, Family Picnics, Bowling Night, Earth Day Clean-up, Holiday Shows & Activities, Year-End Show & Raffle, Teacher Appreciation Dinner and Much More!
Community Activities
Providing service to the community is an important part of the Kiddie Junction philosophy. Our activities may include: holiday festivals such as Halloween parades and Easter egg hunts, visits from the local Police and Fire Departments to teach us about safety, and visits to local nursing homes to promote inter-generational programs.
CLICK HERE for upcoming Special Events and Community Activities.
We look forward to meeting you and your child!
Call us now at 847-827-5415 or stop in today and find out how
Kiddie Junction can make the most of your child's early learning years!
Putting Early Education on the Right Track!