Providing a loving, caring, and nurturing
environment for your infant
At Kiddie Junction Educational Institute, we believe that learning begins here.
Our Kidex and Creative Curriculum program program provides our infants with one-on-one developmentally appropriate activities, which are done with each child on a daily basis.
We provide Enfamil products, jar foods, cereal, whole milk and table foods when your child is ready.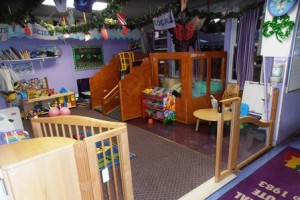 Our infants are separated into two sections, since they have growing and changing needs.
We have one area for our children 6 weeks through 12 months and another area for our children 12 months through 15 months.
We use the "Sign with Your Baby" program to allow parents to easily communicate earlier in life.
Activities Include:
Feeding, Diapering & Personal Care
Nutritious Snacks
Sensory Activities
Kidex & Creative Curriculum Programs
Sign With Your Baby Program
Low Caregiver-to-Child Ratio
We look forward to meeting you and your child!
Call us now at 847-827-5415 or stop in today and find out how
Kiddie Junction can make the most of your child's early learning years!
Putting Early Education on the Right Track!